Hello Everyone, I wanted to share this tutorial with you. If you want to know more about the designer and other services, page kits or classes they may offer please visit their blog, store or web site. Enjoy!
http://www.scrapbook-crazy.com/album-themes.html
creadivya.blogspot.com
Materials
3 or more toilet rolls
folder binder rings
Scrapbook patterned papers to decorate
Ribbon or fibers
A Bone folder - a ruler or dull dinner knife works just as good
A hole punching tool - crop-a-dile or a regular hole punch will do
Adhesive - I used regular PVA glue (white glue) and an old credit card or piece of firm card to spread the glue evenly
Paper trimmer or scissors

Directions
Step one
Take your cleaned up toilet rolls and flatten them. Use the bone folder to firmly crease the folds so that they are as flat as you can make them.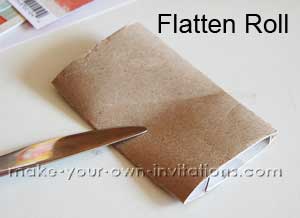 Step two
Now measure your flattened roll to get the 'roll length' and the 'roll width'
Cut a piece of Patterned cardstock to be:
roll length + 1" by 2 x rollwidth then add on an extra 1"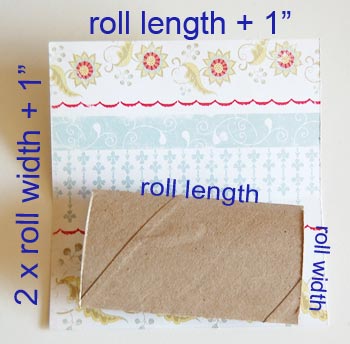 Step three
align one side of the roll with the edge of the paper and fold it over. Fold over again the remaining small piece. You will now have three panels - the top flap, the middle and bottom panels.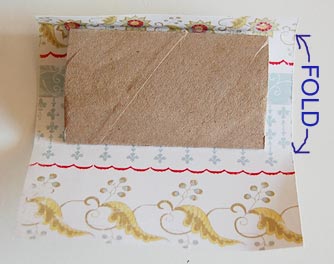 Step four
Now spread some glue evenly over one side of the flattened toilet roll. stick the roll to the middle panel. Be sure to center it.
Now take a pair of scissors and cut four small wedges in the card as shown below. This will enable us to tuck in the overhanging edges easily.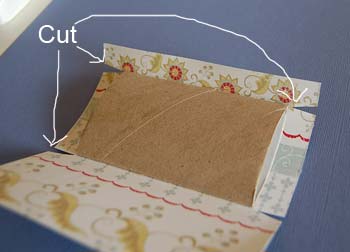 Step five
spread a small amount of glue onto the overhanging edges and tuck them inside the roll and press firmly for a good 20 seconds to ensure they stick.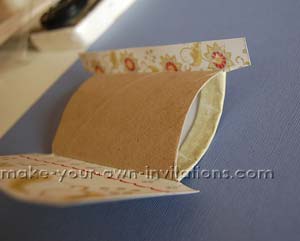 Step 6
Glue down the shorter top flap and tuck in the edges.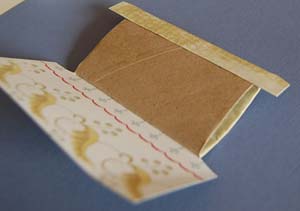 Step 7
Then glue down the last panel and overhanging edges.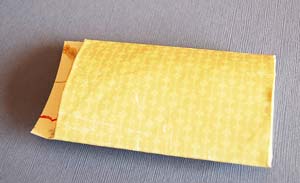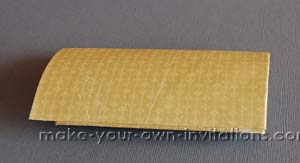 Step 8
Repeat for the remaining toilet rolls. Cover them in the same or coordinating patterned papers.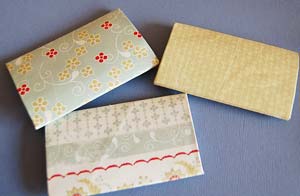 Step nine
Take your hole punch tool and punch two holes a quarter inch in from the side of the flattened rolls for binding. My holes are also 3/4" from the top and bottom of the rolls.
You don't have to use rings for binding - you can thread through some ribbon and fibers if you wish.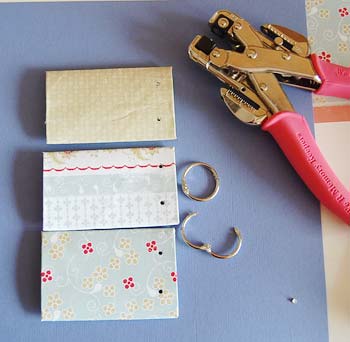 Step ten
Measure and cut three cardstock tags that will fit into the pockets that will be created by the bound pages. I measured my tags to be a little longer so that they will protrude from the pockets.
Punch a hole approx 1/2" in from the top of each tag in the center. Use a corner rounder punch to round of the corners if you wish.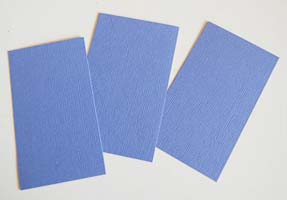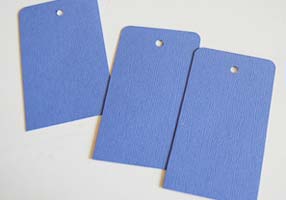 Thread the pages onto binder rings and tie on some pretty, coordination lengths of ribbon to embellish the album. Embellish the tags with ribbon as well.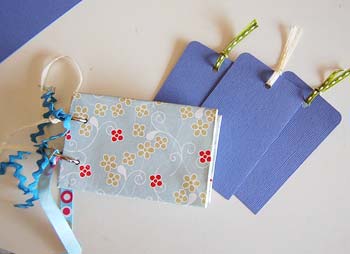 And you're done! Decorate each of the pages and tags with embellishments and photos and you have completed your toilet tissue holder mini book!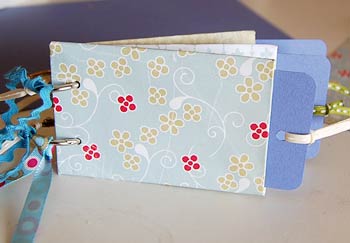 Finished toilet tissue holder mini book
Hot
Tips and notes
- Use the bind-it-all machine to bind your mini album together.
- A trick to folding in those tricky overhanging edge flaps is to carefully fold both corners under and then push the rest in after it. It can get a bit messy but it doesnt need to be to perfect.